The process is becoming a little easier, which is not to say that it is easy. This latest creation required a willingness to write with more vulnerability than I did in my previous books, but hey, ageing is for becoming more courageous right?
That's what I think readers want – courageous writing. Poetry that isn't protective or coercive. Language that breathes and beats its fist on your chest. Authentic writing, void of the highlight reel; because we all know there is no way to speak 'nicely' when your mid metamorphoses.
Metamorphoses let's talk about that word. According to the word hippo app on my phone (one of my many writing tools) it can be defined as 'a change of the form or nature of a thing or person into a completely different one.' In my experience this process cannot take place on familiar territory. One needs a cocoon of sorts, somewhere away from the patterns of old.
We may think that a cocoon is always a small, protected hide away. However, I have come to see that living through a wilderness experience is a kind of cocoon. Simply, it is a space where familiar ways don't work and to survive you must surrender to your undoing.
Nobody volunteers for such a task. The unravelling of life is something no one asks for. Change happens and sometimes we can't help it. How do we unknow what has been made known to us? How do we unfeel, unsee, undo experience? Trying to do so would be to miss the point of being here. All we can do is surrender to the lesson and walk on.
Although surrender is the only way to endure the process, tools are handy. 'Beyond the Safety of Trees', is a tool. Use it like a spade. Through expressive writing, dig up what lies in your subconscious and explore how your wilderness experience is shaping you; even if you think you've walked through it. This guided journal contains 74 wilderness themed poems and 40 writing prompts to help readers navigate seasons of unexpected, and at times, unsettling change. Document your becoming, discover what lives deep in your heart and re-write your story.
My wilderness came in the form of a story. A page was turned and I found that I had been killed off, written out of a narrative I was mistakenly told I belonged in. This made me question everything, including why I had spent most my life playing a part in my own life instead of holding the pen. Suddenly I could see, 'Those who hold the pen hold the power' and that is how I discovered that journaling isn't just a way to offload negative emotion, but a life altering creative practice that requires us only to show up with honesty and embrace the process.
And so, if you are found in an unfamiliar place, a desert of lost dreams, an ocean of grief, a hinterland of heartache, a city of uncertainties. It is my intention that the words and writing prompts in this book will bring a sense of empowerment and make you feel seen, understood, and celebrated.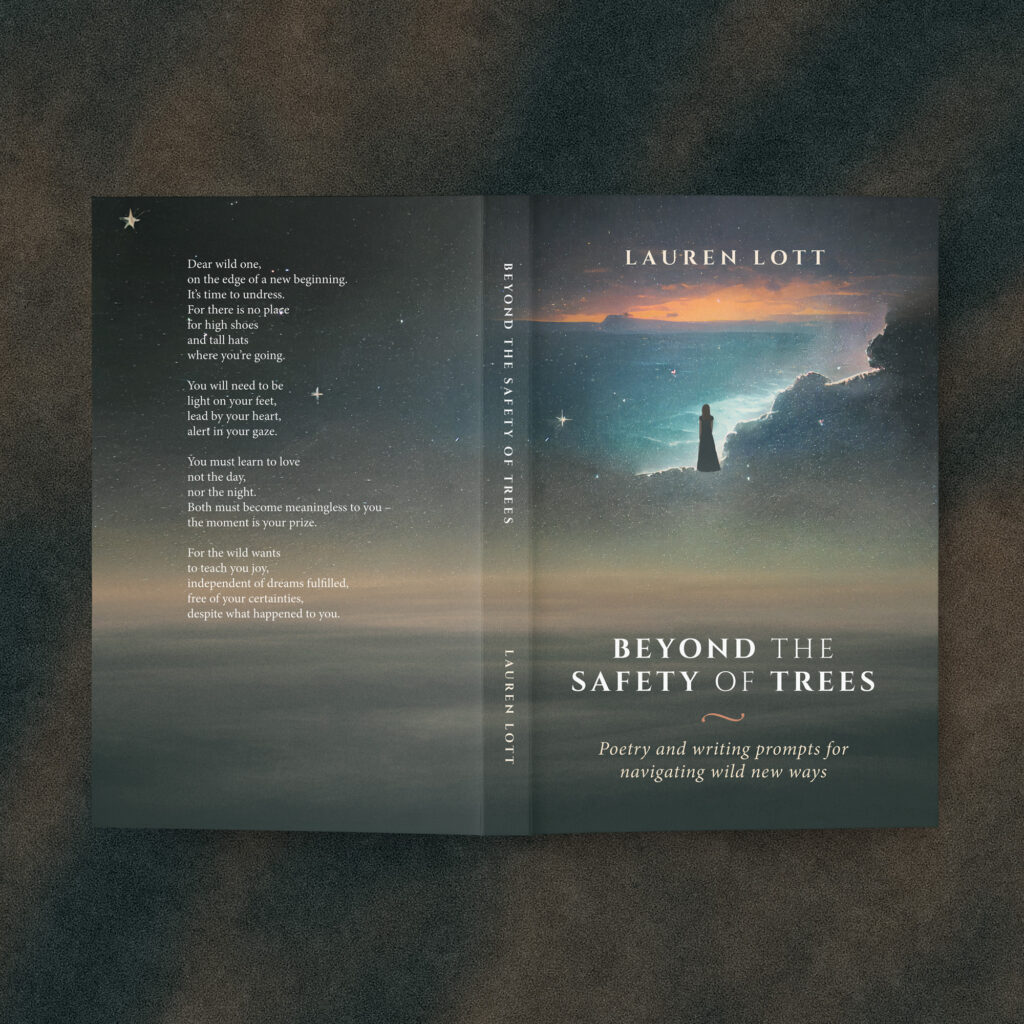 Dear Wild One, 
On the edge of a new beginning.
It's time to undress.
For there is not place 
for high shoes and tall hats
where you are going.

You will need to be
light on your feet,
led by your heart,
alert in your gaze.

You must learn to love
not the day,
nor the night.
Both must become meaningless to you-
The moment is your prize.

For the wild wants 
to teach you joy,
independent of dreams fulfilled
free of your certainties,
despite what happened to you.