Journaling can be used for both reflection and projection. It can help us remember where we have been, what decisions we have made, why we made those decisions, how we have coped with challenges and what we have learnt from our recent experiences. It can reveal how we really feel, what we really want and the obstacles that stand in the way of achieving our desires.
Although we can not control every aspect of our lives, these June journal prompts are crafted to help you be responsible for what you can control, navigate your next steps well and finish the year strong.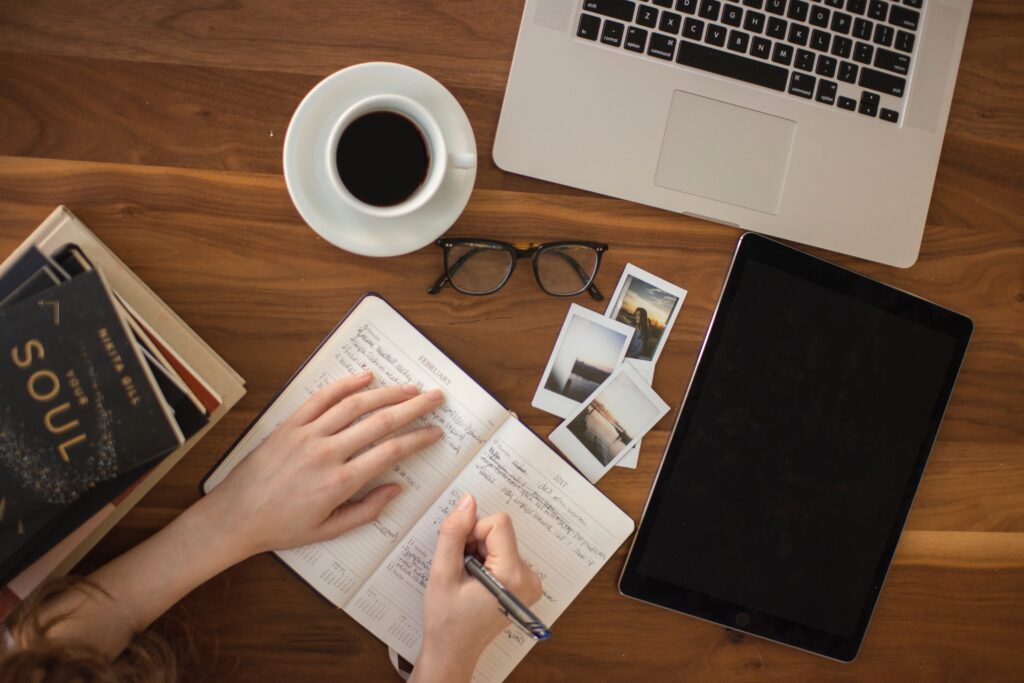 What has been the thing you have enjoyed most so far this year?
Don't think too hard about this one. It could be your job, your hobby, a new or old friendship, an event or vacation, a spiritual practice or a simple delight found in your everyday life. This prompt helps point to not only the pleasure experienced, but also to the plan you should consider. What is life for if not to be enjoyed. To finish the year strong you will need to pack it with good times, the things that amuse you.
What goals did you set this year? How would you say that you are progressing with them?
You may want to resist this question. But don't. It may cause you to feel guilt, shame or disappointment, but remember there is no room to judge your emotions on the page. Simply write out the goals you set and then without excuse assess if you are progressing towards achieving them. It's a simple yes or no. If the answer is no, be brave enough to look deeper into why you have not made any ground. If your goals have changed, you may like to set another set of goals to be achieved by the end of the year.
What does success mean to you?
I love this question. I love it because it allows us to define success rather than have it defined for us. It is important that your goals reflect what success means to you. Is success financial gain? Is it being praised by your peers? Is it spiritual growth? Is it community impact? Is it healthy relationships? Is it freedom to do whatever you want? Answering this question will help you move through the lessons you need to learn and towards your true north.
Write a few lines about each of the following areas of your life. Note the things you are proud of and the things you would like to change.
Health. This includes your physical, mental and emotional wellbeing.
Relationships. This includes, romantic relationships, friendships, work relationships and other family connections.
Finances. This includes paying off debt, budgeting, investments, and your attitude towards money.
Creativity. This includes following your curiosities, solving problems, improving your craft and being inspired.
Soul. This includes finding alignment, self-love, peace of mind, connecting to a higher power and being content.
What area of your life do you feel needs the most focus in the coming months?
After answering question 4 you will be able to see what area of your life needs the most focus in the coming months. Write down a few ways you will do this. Remember it's all about time and action. Select the time you will set aside to focus on this area and the action you will take within that time frame.
Imagine it is New Year's Eve 2022. What do you want to be able to say about this year?
In light of the fact that we are still living in a pandemic and there are lots of concerning things going on in the world, many would answer this question with two words, 'I survived.' Although this answer is valad, think of something you would like to say that is in your control and would put a smile on your face,
Again, imagine it is New Year's Eve 2022. What do you want to be able to say about yourself?
In essence this question is asking, 'What could you do that would make you feel proud?' The best way to answer it is to write out the kind of person you want to be and then take a look at the things you can practically do to cultivate personal growth. Do you want to overcome a fear? Improve your communication skills? Become more loving? Increase your capacity? Give more to others? Write down what you would like to say about yourself.
If you enjoyed these journal prompts and you would like to further engage in writing for therapeutic purposes, consider booking a 'Write to Rise' session with me, or taking a closer look at 'The Remains of Burning Therapeutic Journal' poetry and writing prompts for processing pain and loss. Available from bookshops.