In my most recent newsletter I shared that my first journal is just weeks away from being published. I told subscribers that in creating the journal I found my sweet spot: the marriage between what I love to do and helping others.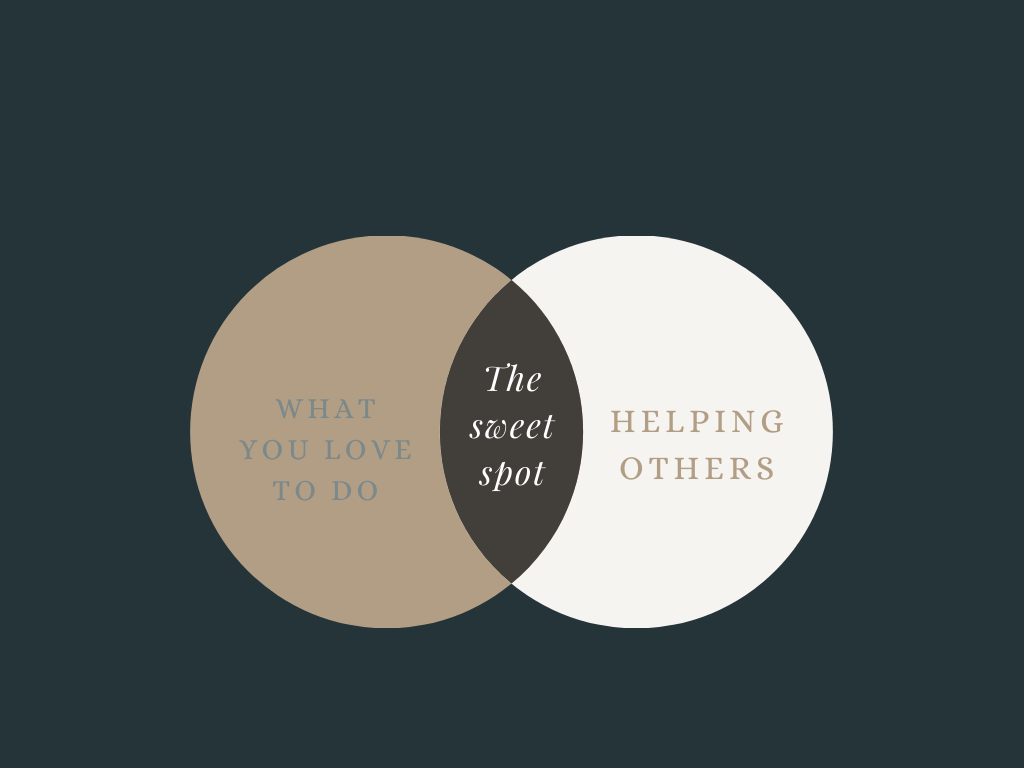 In the newsletter I also included a few journal  prompts to help subscribers  find their sweet spot. Today I'd like to unpack these questions. So lean in lovelies, we are about to take a deep dive into the honeyed core of who you are and take a look ( if only a glance) at your very significant purpose.
1. Who are you a tad jealous of?
All my life I've been told that jealousy is a sin. What I was not told is that jealousy is a useful way to figure out what is in your heart. You see, when we are jealous it is for a REASON. Usually we want to succeed in the field another is succeeding in. Feelings of envy are in essence, nothing more than a sign that says – YOU ARE IN THE VICINITY OF YOUR PURPOSE. Think of it this way, those whom you are jealous of are doing one thing – holding up a mirror. That's right, jealousy does not have to be about creating idols, being resentful, holding grudges or becoming bitter. Although jealousy, if left to itself, can produce these unpleasant thoughts and emotions, when harnessed, it becomes an indication of what you want to do with your life.
2. What does a perfect day look like to you?
For many of us the answer to this question would include the people and things we love. However, when I say 'what does a perfect day look like to you' I'm talking about rhythm and routine . Is your perfect day fast paced, energy fueled, with your fingers in lots of pies? Maybe your perfect day looks like being alone with time to focus and produce deep work. Do you like the surety of a fixed schedule or are you better pleased with a day that is flexible and full of variety? Your sweet spot is not just about what you do, but also, the way you do it.
3. What energises you?
The meaning of the words introvert and extrovert are often mistaken for being associated with personality. In truth, these two words refer to where energy is sourced. Do you gain energy from solace or from interaction? From inward reflection or activity? If you are introverted you will feel refreshed by contemplation and drained by things external to you. If you are extroverted you will feel refueled when you are around people and drained by a lack of interaction. I am introverted. That means time alone revives me. What it does not mean is that I am shy or I don't like people or I'm fearful of public speaking. In turn, extroverts are not always the life of the party and do not always have a 'bubbly personality'. Knowing how you are energised will help you find your sweet spot.
4. What kinds of conversations do you lean into?
Imagine you are sitting in a cafe. At the table beside you are two people in deep conversation. You can hear what they are saying. You have two options. Tune them out and focus your attention on something else or lean in and indulge in their exchange. What topic(s) would they be discussing for you to want a seat at their table. What are you insanely curious about? What are you intrigued by? What do you often find yourself googling? What are you hungry to learn about? The sweet spot is not a place in which we arrive, but a road we journey. Your sweet spot will leave you room to breathe, grow, and become.
5. Who do you empathise with the most?
It's true that not everyone notices who you notice. Who you see is often largely dependent on your own experiences. It's likely that you have wisdom and insight into how to serve certain people because simply put, you've been there. So, Who can you relate to? What have you been through that you hope others won't have to? How can you use the things that have hurt you to help others? Maybe you have a heart for people of a particular race or culture. Maybe the people you wish to help all have the same kinds of struggles or are in a similar season in life. Your sweet spot will be a place of impact, a place of healing, a place that benefits others as well as yourself.
Now it's your turn, finish these sentences:-
I'm a tad jealous of…
My perfect day looks like…
I am energised by…
I lean into conversations about…
I empathise most with people who…
From here, you are well on your way to figuring out what you want to put out into the world, how you will go about doing it and who it will help the most. Sweet as honey, delicious as pie!
Great News! You too can become a LOVE-Mail subscriber and receive inspirational words and writing prompts like these on the regular. That's right, my monthly newsletter is jam-packed full of lots to think about. Sign up today and receive my FREE beautifully illustrated digital chapbook, 'Never Far', poetry about peace.